Monday, October 31, 2005
The types of people Japanese just can't stand
from another
article from MDN news
...
although this is not in any particular "hate-order", the first that was mentioned was this...
"He's always goofing off on the job."
heh. now i know why japs dun like to talk to us singaporeans here in my department.. ;p
The next question posed to the subjects was, what is your relationship to the object of this dislike? Just under half (49%) said it was a co-worker.
yup... it's me alrite...
*working hard now*
posted by
winz at 10:50 AM
&nbsp
~|=|~
from tokyo to seoul..
looks like
the chicks who claims that kfc tortures chicks
have moved on... they are now at seoul, same costume, same signs, different presentation...
will they make their way to singapore i wonder? hmmm..
posted by
winz at 10:46 AM
&nbsp
~|=|~
Happy Halloween!
from all of us, with Captain Hook, Dark Peter Pan, and headless Tinklebell... ;)
posted by
winz at 10:33 AM
&nbsp
~|=|~

Friday, October 28, 2005
raphael nadal won the madrid masters...
he must have greater concentration power than his opponent, considering the distractions in the form of ball-gals.
they actually hired models to be ball-gals for the Masters in Madrid!!... and according to
MDN news
,
"Last year, female models in black string vests and tight knee-length skirts chased balls during some televised matches at the Madrid Masters men's tournament -- and they turned as many heads as the tennis."
next year, they promised that they will hire hunky male models to be the ball-boys...
so gals, wait for your turn.. next year.. ;p
posted by
winz at 2:17 PM
&nbsp
~|=|~
Nooooo....
if kfc close down, what i eat?? heh.
anyway this is interesting, spotted off
MDN news
again.
picture shows 2 gals in tokyo demonstrating against kfc's alleged cruelty to chickens in their slaughterhouse.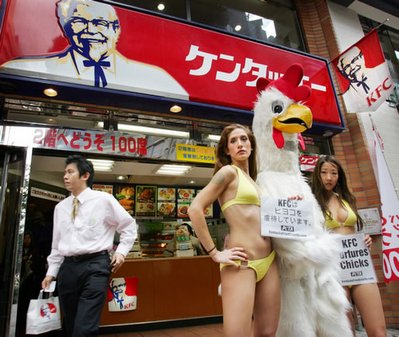 look, the guy cant be bothered, and still bought some chicken, hehe.. just like how i would..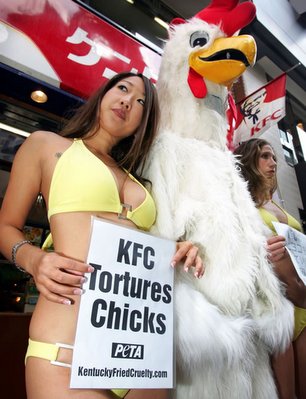 KFC Tortures Chicks.
ooo.. policemen... i wonder whether they were allowed to carry on or not.
posted by
winz at 10:26 AM
&nbsp
~|=|~

Wednesday, October 26, 2005
Meeting Monica Mancini
monica mancini - cinema paradiso..
i still remember in december 2002, when i was in NYC, i entered the HMV at (or near?) times square, thinking of buying some nice jazz CDs that you probably cant, or wont in the near future, get in singapore.
her CD, was up for sampling at one of the racks. the moment i started listening, i fell in love, out of love, and back in. simply bowled over.
her voice is hauntingly beautiful, and like eva cassidy (my no.1 fav), she has the ability to tell stories with her songs, to relate to others, not just singing them. you can sample the album songs
here
, too bad only half a minute of each song, so you cant really get the whole feel of each songs. and notice that i am not alone, everyone who rated gave her a 5-star.
her's was the album that accompanied me for a long long time after i returned to singapore, accompanied me through my ups and downs, and i must admit that i often cried with the songs cos of how down i was then, and how much i feel she can relate to me through her songs...
this album, and monica, means a lot to me.
when i saw that she would be having a performance in tokyo, i quickly jumped on the chance. yesterday was finally the day of the performance, and although i was slightly disappointed with the acoustics of the hall, i wasnt disappointed with the performance at all... it was great! the trombonist was exceptional - i havent heard a more subtle and smooth handling of passages in my whole life... the pianist was weird, but good (his on stage antics reminded me of ray charles), and of cos monica, looking so beautiful on stage, with an even more beautiful voice.
i was pretty disppointed to find out that they didnt have any of her CDs on sale there, only CDs of the pianist, and Gregg Fields - Monica's husband - who was also the drummer and producer of many albums, and a Henry Mancini tribute CD. i was also disppointed that only Shelly (pianist) and Gregg will be signing autographs at the end of the performance.
(by the way, monica mancini's claim to fame was that she is the daughter of the late Henry Mancini - composer of many great tunes like Moon River, Days of Wine and Roses, Pink Panther theme, etc.)
i was undaunted. i decided to ask Gregg if i could meet up with her for a photo or something. hence i waited for everyone to finish getting their autographs.
i walked up to him, nervous, smiled, and gave a little bow (the japanese influence)... I extended my hand to shake theirs too.
"Good evening, thanks for the great performance, I thoroughly enjoyed myself tonight. You guys were great!"
"Why.. thank you!" they responding smiling.
I do not have a CD to let them sign, so they were just sitting there listening to what I have to say.
"Actually, Mr Field, I am a big fan of your wife, Monica, and I was wondering if I could make a request - hopefully not too big a request..." i jumped quickly onto the topic.
"absolutely... no problem, what's that?" he replied. at this moment Shelly must have become disinterested, since it was obvious i wasnt there for him.. lol.
"I was wondering if I could meet up with Monica, get a picture taken with her, and tell her how much I appreciate her music?"
"sure... absolutely... not a problem at all!" he smiled, getting out of his chair, and beckoned me to follow him to the backstage.
during the above conversation, the last person getting the autograph, a japanese gal, turned to me and asked me "何を言っていましたか?" what did i just say? i was nervous to get this right, so i didnt have the coolness to translate what i said to her... so i just told her i didnt know japanese... sorry to you, whoever you are.. ;p
so cal and i weaved our way into the back stage area, and finally met up with Mrs Field. Gregg then voluntarily offered to take some photos for me with her...
with Monica Mancini
they were really very nice ppl, no airs and all... we talked for perhaps a good 5 mins, although they had to rush to vacate the premise. i told her how much i like her voice, how i encountered her album, and how much it meant to me. they both seemed genuinely touched. haha.. Gregg intro me to her as "your big fan from Singapore". ;p
i then fumbled around for something which i can get her to autograph on... was actually thinking of the ticket, didnt buy any album, so cant get her to sign on any haha... i was like mumbling "i didn't prepare anything for an autograph..." while fumbling ard. on seeing this, Gregg promptly said to me "no problem, i think i have a cd here somewhere..."
i was like WOW... they were so nice, and to top things off, they even gave me their personal (although used) CD!! if she's really popular, i could even sell this off as collector item for a hefty price even, since it is a promotional cd, not for sale one, autographed some more.... not that i would lah.
the CD that they gave me was "Ultimate Mancini", Monica's 3rd album, which was nominated for grammys for best vocal i think, if i'm not wrong. and you can sample it
here
.
before we parted, i requested for a last photo with both of them, and the album of course... and cal was nice to help me take the pic.
me, monica, gregg. 3 very very nice people.. ;p
here are some close ups of the CD...
the cover, signed. notice how much she looks like her father...
opened up...
Ultimate Mancini (Promotional) - produced by Gregg Field, her husband
and here's the autograph once again...
really made my day, or even my week... hehe... first time experience in 追偶像 also.. haha... anyway they mentioned they may be performing in Singapore next year. well, if they do, be sure I'll def be there!
and remember... it never hurts to ask. ;p
posted by
winz at 1:20 PM
&nbsp
~|=|~
gacha gacha
gacha gacha may sound foreign to you, but actually we all see it ard and have played with it sometime in our life.... it actually refers to those machines where you insert a coin and turn the dial, and a random ball will fall out, where inside will be some cute stuff that you may or may not want in the first place.
well, obviously it is still a big thing in japan. yodobashi has rows and rows of such machines, having stuff to cater to all differing taste of consumers. well at this pt, i do remember a certain james, who spent over 5000 yen (close to 100 SGD) becos he wanted to collect a whole set of bleach figurines, but just cant get his hands on the 6th and last one. haha... idiot. in case you dunno, you can go some toy shop in akihabara or somewhere, to buy such figurines opened and separate, albeit at a marked up price (usually only about 30-50%, also depending on the rarity).
anyways, this post is not talking about these kinda 100/200/300 yen gacha gachas.. me talking about 1000 yen ones (theres 2000 yen ones too).
1000 yen = 14.80 SGD
what the hell can i get for a 1000 yen gacha? well it is actually some sort of a lucky draw... these machines pack the lure of goodies such as PS2, PSP, IPOD Nano, LV wallet, Gucci shades, etc. etc. etc. obviously as you can see, some stuff are catered to guys, and others to entice women.
for 2000 yen, you get to try your hand in getting a 20GB Ipod.
anyway, when i first saw it, I was contemplating whether i should waste this money, or rather it's a risky investment. i walked away, shop ard a bit more, had dinner, while thinking of the opportunity costs of the 1000 yen gacha.
1000 yen can get me:
- 2 cheap meals
- 1 meal at pepper lunch
- 1 movie
- 5 mins of pachinko 'fun'
- cal's disastrous dinner on the same nite
i guess the last 2 were the ones that convinced me to go for it and try my luck, more for the fun of it and nothing else (cos if i am compulsive, i wouldnt stop at 1, would I?). i decided on dinner that nite, and calvin spent close to 1000 on a horrible dinner, so i felt kinda bad at wasting his money, so why not waste mine too? ;p
i didnt have a camera with me then, so no photos of the machine, but here are some photos of the orb... and my Ipod Nano winning voucher!
this black ball costed me 1000 yen... better gimme my ipod nano or else...
ok... a peek into the contents.... something soft... could there be a voucher inside here?
anyone care to guess what's inside?? hehe... after you guess liao, scroll down for the answer...
a satin panty!!! wtf?????!!!?!?!?!?! (the visible lace in the previous pic should haven given this away ;p)
i thought i got something, when i felt some hard and thick paper-like object in the glob of panty... but it turned out to be the label... sigh...
well, at least i was a bit comforted to see the label... i had to.. lol.
fine touch - 1470 yen
great. at least it wasnt a wasted investment... i got a
1470 yen
panty for only
1000 yen
... good deal huh?
now to figure out what to do with this...
anyone wants a M-sized good quality panty?
if no takers, as calvin suggested, i may give this whole thing to a female fren of mine whose birthday is coming up soon... haha... i hope she takes the joke ;p
guys who read this, dun let the cat out of the bag hor...
posted by
winz at 10:38 AM
&nbsp
~|=|~
anniversary...
a year ago today, i just stepped foot on japanese soil for the first time...
time flies... fast forward, exactly a year later, i am now in my office, basically still the same person, wearing the same clothes, although my best achievement so far must be my loss of 5 kg.. lol...
let's see if i changed much...
26 Oct 2004:
86-kg me (with CK, and JR peacing out at the back)
Now:
(ok actually in hokkaido, closest i can get lah... haven uploaded other photos yet)

81-kg me, still needing to lose more weight to improve on my grand tally of 1 pull-up... lol.
i wonder how many frens still remember me, how many remembered that just yesterday nite a year ago, they were at the airport seeing me off... i wonder how much they have changed...
i have officially 6 more months before the end of my training period. better do everything i wanna do here in japan before it's too late.
see you guys soon, in half a year's time...
posted by
winz at 10:25 AM
&nbsp
~|=|~

Tuesday, October 25, 2005
what your birthday says about you...
sorry to post another of these quiz stuff... but this is a rather good depiction of how i am... hehe.
Your Birthdate: February 21

Being born on the 21st day of the month (3 energy) is likely to add a good bit of vitality to your life.
The energy of 3 allows you bounce back rapidly from setbacks, physical or mental.
There is a restlessness in your nature, but you seem to be able to portray an easygoing, "couldn't care less" attitude.

You have a natural ability to express yourself in public, and you always make a very good impression.
Good with words, you excel in writing, speaking, and possibly singing.
You are energetic and always a good conversationalist.

You have a keen imagination, but you tend to scatter your energies and become involved with too may superficial matters.
Your mind is practical and rational despite this tendency to jump about.
You are affectionate and loving, but very sensitive.
You are subject to rapid ups and downs.
posted by
winz at 11:22 AM
&nbsp
~|=|~

Monday, October 24, 2005
band camp
came back from my band camp poor and exhausted.
as in my previous post, the band camp was super tiring in terms of actual practice... kept dozing off during practice which isnt a really nice thing to do in a polite society like japan. especially when i was sitting in the front row just in front of the conductor... heh.. but cannot be helped lah..
i thot being so tired in the day, i will just faint into my futon at nite... but miraculously, i lasted past 3 am for both nites (while waking up at 740). for what i also dunno... i mean the japs are like just drinking and talking and me, lost most of the time.. but still somehow managed to keep myself entertained enough to not go sleep earlier..
the place was near mt fuji, but so ulu that there is no handphone reception... queer, if you consider that there is reception on top of mount fuji, but no reception in a small town near mount fuji.
anyway there are some things i observed during this camp that are interesting, and some just plain funny... so thought i'll just share my thots...
i was in the instrument party for the first time since many years... me very bad one.. hehe.. always slack and not do instrument party during NTU days... but this time i did, not to impress the japs, but did it cos of the free car ride that i can get. ;p the japs are real organised bunch of ppl, evident from the queues when taking the escalators, waiting for trains, crowd control, etc. in moving instruments, they also damn organised.
they would label every single thing that needs to be transported, and have a checklist and all, and load and unload them in a real systematic way. the last time i was in an instrument party, it was so much different. i'm not saying this is a better system of course, just a more organised one. heh... i think our way is more efficient, although more prone to errors. nevertheless, i was pretty impressed with their systematic approach.
on the way there in the car, shimazaki showed me his newly-bought 4-day-old white PSP. (i of course showed him my 4-month-old black PSP in return...) he was playing this game called guilty gear.. it is a 1-on-1 fighting game much like street fighter. ok.. so what's the big deal? you know during sparring games like this one, you tend to get excited and try to do all the fanciful quarter-circle punch or half-quarter-front-back combos etc? it's kinda hard to keep the controller still when you are doing so on other platforms. similarly, on the PSP. it was so funny because when he was showing me his game, i all can see is a blur of screen, cos the PSP was like shaking so badly due to his numerous combo inputs. wonder how he can see how the game develops.. hehe.. clearly the PSP isnt suited for some games, i would think.
when we reached, i was surprised, as much as others, to find that there was a massage chair (think osim type, but this is national) placed in the rest area. well the best thing is that it is free!! so we all had fun taking turns to have a go at this one... of course throughout the 2D2N, i had many "go's" with it and was thoroughly satisfied. will be great to have more though... i mean some kind of pleasure, you will never get enough of, right? ;p
on the first nite, while talking, they were saying that this so-and-so is a H-woman. so i asked what that means. they say H stands for hentai, which translates to kinky, or sexually perverted (of cos they were joking around when saying that the poor gal was H, and surprisingly, the gal was just smiling and didnt refute that.. hmmm). they then taught me another similar word - 助平 (sukebee)... looks like a nice word in chinese right? well in japanese, this means lewd or lecherous. they then taught me a 3rd word - むっつり (muttsuri). according to my dictionary, this means sullen or sulky. but they say the meaning was that, but changed liao. so i think it is describing someone who has nothing to say (about some particular topic). so combining the 2 together, むっつり助平, it means that you are secretly lewd. the opposite will just be openly lewd, which they say "open 助平". heh.. then they went on to say who is open and who is muttsuri sukebee.. lol..
on the same nite, i saw naomi brushing her teeth while participating in a conversation with the rest. what was amazing was that she could do that so well, and there wasnt any err "froth" from her brushing. and she did that for over 15 mins. i saw her going at that the next day after lunch and the next nite again. unable to withhold my curiosity, i asked her how she could do that. upon closer inspection, i realised that she wasnt using toothpaste - which explains the lack of "frothing".. heh. she told me that she read that according to findings, toothpaste doesnt do anything to improve or preserve the state of your teeth. the important thing is just to brush your teeth properly to keep them free of any food debris and other alien objects. i was like damn surprised, cos this was the first time i heard and saw anything like this. i told her i cant refute that, seeing her close-to-perfect set of teeth. and she has been at that for 5 years.. wow.... anyone heard of the same/ doing the same??
on the second nite, our conductor, whom i shall address as sensei here, brought out a tape of a recording of some orchestra performing romeo and juliet, a piece we are practising for our upcoming concert. they were fast forwarding and rewinding back and forth, until a part where the recorded program ends and there on the 29 inch TV, in front of half of the band, is a still of a gal lying naked on a bed. lol!! haha, sensei got hold of the controller and tried to rewind or stop the tape, but somehow the VCR froze at that scene for a good 5 seconds or so, while everyone was like saying "sensei...." and laughing... haha.. these short seconds must seem like eternity to him... poor him. rule no. 1 - never record any shows over a porn tape and forget about it. haha... damn funny.
during one of the meals, okada, a guy seated next to me, told me that in japan, ppl don't leave food uneaten whether they like it or not (after seeing that i left some corn uneaten). i looked over at his, and to prove my point, i pointed to his untouched fish-skin. others were watching in amusement of course. he, in turn, proving his point, ate the fish-skin up. i didnt follow suit. ;p i gaijin lah, rude or not, i dun care ;p
on the last day, hirato, the poor gal in charge of the whole of this camp, asked me if i have paid up for the "drinking party" for the first nite, which costed 500 yen. i didnt, but did not know about it (the need to pay extra). i looked at her for a moment, wanting to tell her that "i only drank 2 cups of coke, c'est tout!" mind you, the cups were tiny. and i didnt even eat the nuggets or anything, while they were being let loose on the food and the booze. but in the end, i said "i hadnt" and i paid up... sigh... should have drank more coke if i knew.
after breaking camp, while on the way back, i was playing a bit of my PSP, and sleeping in the car quite a bit. i woke up in time to witness takeuchi paying for toll at 2 separate ocassions - once 600 yen, and another 800 yen. now 800 yen is roughly 12 SGD. and the suay thing is that after paying, the exit was just 500 metres up. haha... he was complaining that 800 yen was too expensive for 500 metres... i think so too... he complained until we reached the toshiba grounds (were we had to unload and return all the instruments)... haha... yeah, i sure will bitch about it if i was the victim of the 800 yen toll...
after the fatigue and dinner, ozaki sent me back to my dorm. along the way, he was fiddling with something which i found was an FM transmitter. apparantly it is a device such that you plug it into the earphone jack of your, say, mp3 player, the transmitter will transmit the signal into FM, so that your radio (here the car audio system radio) can receive this signal and play the music through the audio system... smart hor? me again super ignorant, never see this before. really quite shen... no need to invest in a new car audio system, and no need to have to plug your ipod to your expensive interface anymore... hmmm... why didnt i know about this nifty little gadget? gotta get my hands to one of those...
notice i didnt talk about any band related stuff, hehe... cos nothing much interesting to talk about lah.. just practise and practise only lor... anyway, hope to upload some pictures soon to share with ya all... hehe...
hope this post was interesting for ya, as the experiences were for me.
posted by
winz at 1:29 PM
&nbsp
~|=|~

Friday, October 21, 2005
away from today till sunday...
ok guys, although i dun normally post anything during weekends, but just in case, for those who wanna look for me, i will be away from today until sunday...
will be going to - sigh - band camp... yeah... going to pay 15,000 yen to torture myself. dun get me wrong - i love playing in band, but there is a limit to how much you can play in a single day. my schedule for tomorrow is as follows:
8:00 Breakfast
8:30 Prepare for practice (setting up and moving instruments)
9:00 Full band practice with conductor
12:00 Lunch
13:00 Woodwind sectionals with conductor
15:30 Woodwind sectionals with CM
18:00 Dinner
19:00 Full band practice with conductor
20:30 Full band practice with CM
22:00 Hot bath, drinking session
0:00 Sleep
definitely over my limit... sigh.... gotta endure and chao keng as and when i can.. hehe..
see you guys ard next week... if i survive this band camp that is...
posted by
winz at 4:30 PM
&nbsp
~|=|~

Thursday, October 20, 2005
伊豆之旅
ok... remember guys, me posting in reverse-chrono order hehe... this happened of cos before i went to nagoya to stay overnite at the capsule hotel.
so for our second leg of the summer holidays, we went to Izu (first leg was hokkaido, rem?). well, beaches are real hot (in both sense of the word) in japan, with all the kawaii jap gals flocking to the beaches in their skimpy 2-pieces, we had to go there too, dun we?
Shimoda beach, in Izu, is one of the better beaches in Japan (outside Okinawa), at least according to guidebooks. well from the crowd, you can see it is rather popular among the locals as well...
have you seen such a crowd in east coast before?? or sentosa?
but actually, everywhere where there's a beach, there will be a crowd. Japanese love beaches. that's why the most popular holiday destination for japanese is Hawaii. why? i dunno.. must have something to do with the kawaii gals in bikinis... fafa.. (else why hawaii and kawaii rhymes? ;p)
only one combini and a restaurant in the vicinity. i rate this the best combini to work arubaito in. cos all the hunks and babes buy stuff in their skimpy outfits.. hehe.
group photo of us.
well one interesting thing i learnt. fiona, the gal in the centre, has a bikini fetish. she owns like 20 over pieces of bikini!!! i told her, hey i dun even own so many pieces of underwear!! okok.. hehe.. useless trivia.
after a whole morning and half the afternoon, we were fried and bored. so we left to tour around Izu, visiting the famed 7 (was it 7?) waterfalls. these waterfalls got weird names, those you see already hard to forget. but i forgot anyway, so no names.. ;p
entrance to one of the bigger waterfalls.
me, trying to blend in...
the waterfalls. and us.
also very interesting, we saw a mixed outdoor onsen which is just beside one of the bigger waterfalls. mixed, but ppl wear swimsuits lah.. hehe.
nice feel to it. too bad i didnt bring my trunks.
we continued our journey, driving around izu, stopping by interesting spots, on our way to nagoya.
ppl fishing...
... and we pose for a shot!
a few of us stopped by for a quick boat tour around the watercaves as well... it wasnt very expensive (at 1000 yen per pax), for about 20 mins of boat ride along the coast and in and out of caves. really interesting and nice, i feel.
going into one of the caves at last..
dark and moist, reminded me of series of unfortunate events movie, where the old woman went to hide in the caves hehe..
we then made one more pit stop at the supposedly famed lovers' cliff. were you had to walk 2 kilometres out to the cliff, to ring a bell for luck in love.
there werent any couples among us, so obviously we felt cheated, having to walk that far. the view wasnt even fantastic.
however, i guess for couples, it must be different.
see the couple so happy after trudging 2 km to the bell, and able to ring it 3 times, and trudge back again? priceless smile.
so what will the rings grant you?
"1 ring to purify yourself.
2 rings to call our to your lover's heart.
3 rings to devote your love, or, literally, swear to the sea your love!"
yup... so after which, we went to nagoya, where we finally stayed in the capsule inn.
hehe... let's see.. perhaps, i will finally post up some skimpy ladies from the tokyo game show next... soon lah... ;)
posted by
winz at 11:05 AM
&nbsp
~|=|~
brainwashed.
Note before reading this: this is only a book review, ie. i didnt write it with any anti-jap or pro-jap sentiments. it is how i felt after reading the text, just like for all other book reviews.have to clarify first cos there are some japanese reading my blog.. hehe... i love you guys ok? ;p
remember the japanese right-wing history textbook that caused quite a stir sometime back? well, just found
a website
(via
undercover in japan
) that has the english translated pdfs of the said textbook. well, me being a kaypoh singaporean, have to read it rite?
let's see what the text has to say about the 2nd world war..
"Japan forced military administrations onto the Southeast Asian countries it occupied. The leaders of the independence movements in these countries cooperated with the Japanese military in order to achieve their independence.After Japan lost the war and withdrew from these countries, these colonies gained independence by themselves within 10 years or so."
The independence here, refers to Asian countries having sovereign independence of each nation, ie. for Asians to drive out Western powers. Well i dunno if japan actually asked whether we wanted british off our land then, but i thought singaporeans were quite comfortable as it was then, no? well, *shrugs* if they say so.
"The Japanese military drove away the Western powers which had long controlled the Asian countries ... Their actions awakened the long-dormant spirit of 'making their homeland their own nation by their own hands.We greeted the Japanese military advancing into the Malay Peninsula with joy. When I saw the defeated British military in flight, I felt an excitement which I had never before experienced.' "
this were words from a malaysian independence activist. adding to this general malaysian sentiment (the only sentiment suggested by the text), it went on to say that Indonesians welcomed Japan as liberators...
"They [indonesians] secretly waited with hopes for the Japanese advance southward.... locals gathered in the streets and welcomed the Japanese with joy. Japan was an army of liberation that had chased the Dutch away."
the text didnt mention anything about the comfort women... but here's an interesting account regarding how they dealt with labour shortage in the war.
"... unmarried women worked in factories as "volunteer corps." "
well, it was in double quotation in the text. not sure what that means, but i am NOT suggesting it has anything to do with the comfort women issue.
"Feelings of guilt about the war:From the outset of the occupation, the GHQ strictly censored all discourse in newspapers, magazines, the radio and movies. Using the mass media, the GHQ propagandized the illegitimacy of Japan's war. This propaganda, along with the Tokyo Tribunal, fostered a sense of guilt among the Japanese toward their own country's war and influenced the postwar Japanese perspective on history."
there you go. that's the truth.
we were all brainwashed by the american's propaganda
.
well, according to the textbook that is.
whether this textbook is right or wrong (well it has to be right, cos it is a right-wing text wat ;p) we, who have not been through the said period, can't really comment. we can talk about it till cows come home, sleep, wake up, go out again, and still won't reach a common ground. like some qtrs say, it is their word against ours, their accounts vs ours. so no one knows for sure.
my purpose of writing about this is well, it does show some interesting alternative interpretations to the war, doesn't it? well at least for me, it was an interesting read.
read it
here
(via
undercover
).
posted by
winz at 9:45 AM
&nbsp
~|=|~

Wednesday, October 19, 2005
apologies...
... for the lack of updates...
not in the mood recently, hence though i have photos ready to spin some tales with, havent gotten around to do them...
will do so soon...
申し訳ありません...
posted by
winz at 11:42 AM
&nbsp
~|=|~

Monday, October 17, 2005
sharkbait
The RSPCA
is shocked and appalled at the use of live dogs and cats as bait in shark fishing, reported recently on the island of Réunion in the Indian Ocean.

It is understood that stray animals are rounded up by local fishermen for the purpose.
hmmm... seriously i dunno if i prefer to have the stray dogs (or cats) roaming around, biting strangers and giving them rabies, or to have sharks in return, eating the nice shark's meat, and even nicer shark's fin...
tough decision? well i don't wanna come across as being inhumane. (i am not, since being humane is actually
being concerned with human welfare and the alleviation of suffering
.) ok i was joking, but you get my drift.
but seriously, why aren't there any petitions for the poor worms when they are used by fishing enthusiasts all over the world as baits? worms are not domestic creatures, you say? then why aren't there any petitions for the poor cute little fishes ppl buy to feed them to their pet fishes?
it's just like in some qtrs, ppl say it is inhumane to eat dogs. but why issit it any more humane to eat chickens, pigs or even cows?
that aside, aren't there any other ways to fish for sharks? something like cutting your pinky to let blood flow into the sea so as to lure the sharks over? (i was a JAWS fan when i was young, if you wanna know).
whatever sides you take, if you wanna petition for the french (who, as you know, knows their stuff when it comes to cuisines) to stop such an
inhumane
practice, you can sign the
petition here
.
you can also read the
whole story here
.
*before i receive any flame emails from any animal-righties, i declare now that i love all animals, and all dogs, cats and sharks, and they should not be used as baits, neither should they be caught for food, or whatsoever IMO. i am happy as long as i can continue drinking my shark's fin soup ;)
posted by
winz at 2:56 PM
&nbsp
~|=|~
freaked out...
yesternite, i went to moto for dinner; afterwhich, cal and i stopped by at a sushi stall to buy 50%-discounted sushi for supper.
as cal was paying up, i was standing by our bikes when some lady came over to me and started a string of japanese words. obviously from what she asked, she wanted to know where any supermarket was located around there.
i freaked out.
it was one of first time (if not the first) that an unknown japanese initiated conversation (no doubt it was a question, but need to converse to answer rite?). i was pretty caught off-guard. sure i understood what she was asking, and i do know the answer. given some time, i would have been able to phrase the answer somewhat acceptably in japanese.
but i freaked out.
sure, she was quite a looker. but i can assure you, that was not the reason. the reason was just that - i suck at jap.
my eyes raced around, and i replied her underneath my breath, i dunno. wonder whether she heard that, cos she was still staring at me quizically, and somewhat impatiently. i looked all ard again, looking for cal for help, but he was still paying. and i repeated that i didnt know.
she then shot an irritated glance, and diverted her question to the shop keeper instead. the shop keeper of course obliged and told her that maruetsu was over that away. she then asked what time it closes, and the keeper replied, should be 10.
it was 2145 then. she let out a hearty thanks, and proceeded towards where was pointed out.
i wanted to catch up and tell her something.
but i was still freaked out, so i can't.
i wanted to tell her that it takes about 10 mins to walk to maruetsu, or maybe more, so by the time she reaches, it might already be packing and closed.
ah well. let's see how her luck holds.
sorry, whoever you are, for not being able to help in anyway.
sigh... 日本語を勉強しなきゃ。練習しなきゃ。
posted by
winz at 10:20 AM
&nbsp
~|=|~
Who loves MGS??!!?
this is great news for MGS lovers all around!
some guy managed to edit and join all the cut-scenes from the 3 MGS games to form movies for MGS!
i checked the website, and the links are apparantly torrent files... meaning that i will probably need to hyper up my BT for the next few nite! hehe...
get them here
!
posted by
winz at 10:17 AM
&nbsp
~|=|~
japanese youths' lingos...
guess in every country, the young like to create new words to sound cool and engage in conversations that elder ppl cannot understand...
japanese is no different. in fact, i find it really amusing. guess for those of you who knows some japanese, you will find it funny too.. hehe
here are some of the lingos spoken by the youths as reported by MDN...
New words are formed by shortening existing words, reversing their syllables or adding "ru" to nouns, thereby creating the infinitive forms of new verbs, such as in "biniru." Which sounds like the word for "vinyl," but actually means to go to a "konbini" (convenience store).
Using the same construction, "famiru" means to go to a family restaurant. "Yoshiru" means to eat at a Yoshino-ya chain restaurant. "Apiru" is to appeal to someone, "okeru" means to go to sing karaoke, and "operu" is to undergo cosmetic surgery (from "operation"). Then you have "rabiru" which means to be trapped and unable to take any action. ("Rabi" is short for "labyrinth," a maze.) Strangest of all, perhaps, is "giboru" --- to undergo a paranormal experience. It is taken from the name Aiko Gibo, a psychic who used to appear regularly on television.
An-pan -- not a roll filled with sweet bean jam, but an am-pm convenience store outlet. (Whose main rival is called "bun-bun," taken from SeBUN-ereBUN -- get it? Seven-Eleven.)
Chihuahua -- to borrow money from consumer finance company Aiful, whose TV commercials feature "Qu-chan," a cute miniature dog.
Daa -- short for "darling"
Getoru -- to obtain something. Combining "get" and "toru" (to take).
Haafu -- from the English "half." Means to stay out half the night, until 3 a.m.
Ikato -- a nerdy person who's out of it. Shortened from "ikanimo Todai-sei" ("he or she is really like a University of Tokyo student).
Isojin -- name of a well known brand of throat gargle, but in this case means a person (jin) who is exceptionally busy (isogashii).
Karako -- a color copy
Keiban -- a cell phone number. Shortened from "keitai bango."
M4 -- not a magnitude 4 earthquake, but an appointment to meet someone at 4 pm at McDonalds.
Maha-go! -- a command to get lost, beat it, scram. Composed from "maha" (mach, the speed of sound) and "go."
Marumera -- Marlboro Menthol Lights
Oniden -- Literally, "demon-electricity." To telephone a person persistently.
Pee-pee (pronounced peh-peh) -- to lie, or a liar.
Peki-peki -- short for "kanpeki," perfect.
Rochuu --- short for "rojo de chuu," to kiss on a public street.
Takakura Ken --- refers to a clumsy person. (The name of a famous macho actor.)
Wakame -- normally a sea vegetable, but in this case refers to straight, black hair. Probably because eating wakame is believed to promote healthy hair.
Yababa --- combined from "yabai obasan," an older woman capable of making trouble.
Yakui --- a hood, someone resembling a yakuza.
Yarahata --- a girl who reaches the age of 20 still a virgin. The word is made by combining "yaranai" (not to do it) and "hatachi" (age 20).
Yuusu --- a high school student. From the English "youth."
Zenbei ga naita --- literally, "the entire United States wept." Means nothing important.
One might be moved to wonder how the above expression could possibly take on such an unrelated meaning. After checking the blogs, your reporter came up with this explanation: When many U.S. films open in Japan, they are accompanied by posters claiming that American viewers were moved to tears. But the such films have little emotional impact on viewers here. So Japanese filmgoers have learned, apparently, to disregard such promotional claims as largely meaningless.
at the end of the article, it is warned that "By the time adults get around to acquiring them, kids have already moved on and coined new ones. So there's a good chance learning them is hardly worth the effort,"
heh. the things the young do...
read the
whole article here
.
posted by
winz at 10:10 AM
&nbsp
~|=|~

Saturday, October 15, 2005
super suay me...
today was pretty much a bittersweet day for me... hmmm... i think i'll call it sweetbitter day instead, since i think the bitter outweighs the sweet... sigh...
woke up late, and frens jioed soccer at 4. i went at ard 430 cos i wanted to finish the ippou movie first... anyway, after the movie, i was actually contemplating to not go for the soccer at all (due to laziness). but in the end, i went for it.
when i was leaving, i was actually thinking if changing my specs to my old one would be a good idea. but court soccer dun get too physical, and i was fine the previous few times, and was lazy, so decided no need lah.
sweet-

i scored a goal within the first 10 mins there. a nicely headed in goal (to add the dramatic effect.. lol) from a great cross by CK...
bitter-
...thereby smashing my $200 CK frames and $450 hoya lenses, and sent them flying to the ground... sigh...
i think it was a moment of laziness (for not changing specs), and a moment of folly (for actually going for the header disregarding what it may do to my specs) that led to this... sigh.. can only blame my stupidity and suayness (and CK's accurate cross.. darn him!!!!)
sweet-
i was surprised to find that the lens did not break at all. erm, for those who dunno, it was a frameless specs. it was good to know that my 450 bucks investment paid off...
bitter-

... however, there is now a super evident chip on the top of the right lens... and the frame was, well,
koyak
liao... sigh... a permanent reminder for me not to be lazy the next time i guess...
i went back to my dorm to get the old pair to wear, got my bike, and cycled to moto (my nickname of the neighbourhood town in which i stay) to check in my specs for miracle healing. so while my specs were hospitalised, i cycled back to the park to join the guys for soccer yet again.
some ppl just never learn...
sweet-
i scored another goal soon after again... man, if not for the specs, i would think i was having a super lucky day.
bitter-
moments later, my face got rammed my the ball, near distance, full force. well at least the specs absorbed some of the force... lol... yes, this time my old pair of specs got rammed.
sweet-
thankfully, since it is titanium framed, i bent it back to shape easily, and soon after, scored the 3rd for the day. frens were saying i should get my specs spoilt more often.... not a chance.. too high a price to pay...
after the game, i went back to the specs shop to get my poor injured specs.
bitter-
the frame is now slightly wider than before. the shop guy told me that was the best thing they could do.
sweet-

well at least there are no evident scratches (less the chip), still can wear, and the service is free...
on my way back, i bought food back to cook dinner, and...
sweet-
i saw that coke got offer (25% offer), so i bought 4 bottles back home hehe...
and after i shat and bathed, i had dinner...
sweet-
while watching the newcastle match live!
bitter-

... but witnessed a horrid display by them.. and of course they lost.
watched apprentice after that...
sweet-
... well at least the hated torral got fired... hooray!
sigh... after reading the above, i think the bitter heavily outweighs the sweet hor? sigh... a 450 dollar header.. simply not worthed it...
super suay me. rather,
super stupid me
.
*guys, its not for self-glorification when i mentioned how many goals i scored during a lazy saturday kick-around... add more effect to my story mah... also, these are my first goals for a long time, not counting the few own goals i had before of course... so let me be lah ok? hehe
posted by
winz at 11:35 PM
&nbsp
~|=|~

Friday, October 14, 2005
living in a capsule
it's rather weird now that i feel that i am posting about events in reverse-chronological order rather than the more orthodox way. heh.
anyways will talk about my first, one and most probably not only, experience living in a capsule hotel. btw, this happened the nite (in nagoya) before the world expo trip, hence the previous paragraph.
the lobby looked nice, much better than the standard 1 or 2 star hotels/ ryokans you find in japan. the price for the nite's stay (plus ofuro) is 3300 per person (2500 yen without bath). this is much cheaper than other budget/business hotels (ard 6k+ for single), and i must add, they have more stuff to offer (will talk about them later).
after we checked in, we were diverted to the locker area, where we could store our valuables and get a change of clothes. yup, they do provide the hospital-patient-uniform for us to sleep in. clean and pressed, neatly folded and placed in the locker.
august, me, james, jianrong, in the locker area, and me in the hospital getup.
have to bear in mind the capsules were first built to cater to those japs who, after partying or drinking, missed the last train back home, to have a no-fuss, inexpensive nite over. hence the guests will most probably be without the necessary change of clothes, bathing towels etc, hence the capsule hotels do provide with such.
first we went to the bathhouse, which is excellent. towels are provided, even those you need to scrape your backs. they provide the standard shampoo/conditioner/liquid soap, and in addition, shavers, shaving cream, toothbrush/toothpaste, etc. the bathhouse itself is equipped with a sauna room, hot and cold baths, and for the first time i've encountered, a mini swimming pool to wade in. cool rite?
anyway, we went back to the capsule spick and span, and eager to climb into our chambers.
the
morgue
capsules (note there is no locks to each of the "room", just a curtain, hence the need for lockers)
james and me poking out of our hives (i pity the jap sleeping below me)
me in mine... forgive the fat legs... am doing something about it recently ;p
view from the inside.
even have private tv! and got pay per view as well...
i must say that the capsule has ample space even for such a fat man like myself. can roll ard and stuff no prob. only prob is sometimes when i get up, i will hit the tv if i am not careful.. hehe..
although got space, it gets kinda lonely and stuffy inside if you are not about to sleep anytime soon. no worries, cos they got living room for the guests.
big living room, with big tv, comfy couches, magazines, newspapers...
even have semi-private tables, that u can plug ur laptop in and enjoy free LAN. (i witnessed someone surfing porn on that nite.. lol)
there's a corner where they have vending machines and game machines (arcade and slots) as well... the vending machines got those that dispense food as well. so everything you need is actually within an arm's reach.
vending machines and slots
although i do not have a photo at hand, the washroom is pretty well-equipped too. they have shavers and creams, face towels, toothbrush/toothpastes, combs (ready for use in a oven-like sterilizer), aftershaves, etc.
in the morning, they dish out free english breakfast as well... wow...
good deal hor?
if you are not claustrophobic, do give one of these capsules a try... you may like it, just like me!
posted by
winz at 2:02 PM
&nbsp
~|=|~